Mount Diablo Surveyors Historical Society's
Shock Waves
O
ne Hundred Years
After the 1906 Earthquake
A film produced by
The 1906 Centennial Alliance
The Department of the Interior
United States Geological Survey
April 18, 2006
Screen shot photos of MDSHS members on CBS-5/KPIX-TV, San Francisco, CA broadcast on April 12, 2006.
(Rebroadcast on KBHK-UBN-TV, San Francisco, CA on April 22, 2006)

MDSHS members are prominently featured in two separate segments. Segment One starts approximately 7 minutes into the film with Segment Two starting approximately 24 minutes into the film.
Please allow time for this page to load photos....
<![if !supportEmptyParas]> <![endif]>
Segment One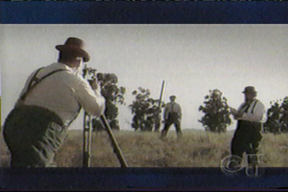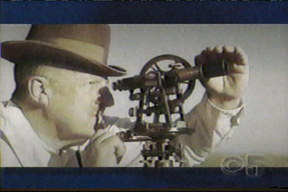 MDSHS members (L-R, T-B): Peter Friedmann, Cris de la Paz, Michael J. Foley and Paul Lamoreaux.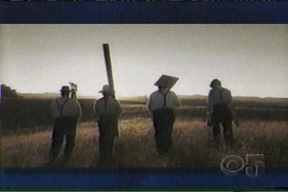 Segment Two
MDSHS member Paul Lamoreaux operates the Alidade instrument.
---
MDSHS is a California non-profit corporation organized under
IRS 501(c)3 (Federal #8916806802, CA 1835904).
Website designed by and maintained by Michael J. Foley, PLS
Page last updated 1/30/2013
Copyright &copy2013 MDSHS
WWW.MDSHS.ORG