Please scroll down to view photos.
These photos have be reduced to allow this page to load faster...
---
On Sunday May 27th and Monday May 28th 2001 (Memorial weekend) the city of San Ramon hosted it's 15th annual Art & Wind Festival. The event is held annually at the corner of Bollinger Canyon and Alcosta Boulevard in Central Park. The Art & Wind Festival's popularity has grown over the years and now boasts over 200 arts and craft booths, food courts, info alley, many children activities including kite making, and three entertainment stages all going at once. Many local youth groups performed on smaller stages including martial arts demonstrations, dance and tap, gymnastics and musical performances. Along with the event itself, there was also a Wind Breaker 5K Run, Walk & Skate on Monday. This year also marked a first with the arrival of a Coast Guard Air Rescue Helicopter on both days. There was a lot of kite flying including professional kite flyers demonstrating their skills choreographed to music. On Monday morning at dawn there was a hot air balloon launch event with many balloons of all colors. For information about this years event, visit the city's website www.artandwind.com

THE MOUNT DIABLO SURVEYORS HISTORICAL SOCIETY hosted an information booth displaying antique surveying equipment and handed out flyers describing the history of surveying related to Mount Diablo and answered general questions from the public about surveying. Please find below a few photograph of our booth. Thanks must go out to MDSHS' members Duncan Marshall and Michael J. Foley for doing the setup/takedown chores and for manning the booth.
---
Mount Diablo Surveyors Historical Society
"Info Alley" Booth

---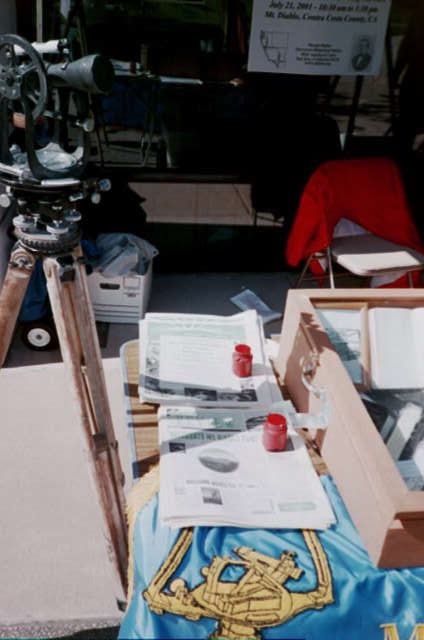 MDSHS member Duncan Marshall, your host.
Photo's by MDSHS member Michael J. Foley
(c) 2001 MDSHS
Return to MDSHS Past Events Page  
---
MDSHS is a California non-profit corporation organized under
IRS 501(c)3 (Federal #8916806802, CA 1835904).
Website designed by and maintained by Michael J. Foley, PLS
Copyright 2001, 2008 MDSHS.