The Mount Diablo Surveyors Historical Society
1998 Harvest Festival
Ardenwood Historic Farm, Fremont, CA
October 17 & 18, 1998

Mount Diablo Surveyors Historical Society members that participated in this years event were
Peter Friedmann, Hal Davis, Michael Foley, Gara Cross, Joddie Heavener,
Paul Lamoreaux, Duncan Marshall and Gregg Comerer.
Please scroll down to view photos.
Report by Joddie Heavener
The Mount Diablo Surveyors Historical Society (MDSHS) was once again invited back for the third year for a display opportunity at the ARDENWOOD HISTORIC FARM in Fremont, California for the ANNUAL HARVEST DAYS FESTIVAL held on October 17 and 18, 1998. The historic farm is run jointly by the East Bay Regional Park District and the City of Fremont.

It was 1849 when George Patterson left the Midwest and came to California in search of gold, but after a year and a half of mining he was in ill health and broke. He turned to the work that he knew best -farming. George gradually bought land with the money he earned by working for farmers near Mission San Jose. By the time he married Clara Hawley in 1877, he was on his way to acquiring nearly 6,000 acres of land and was one of the most wealthy and respected men in the area.

The MDSHS display area was, as it has been for the last few years, in the shadow of the historic Patterson Farm House. The back portion of the house was built (c. 1856) when money was scarce; The Queen Anne Addition (c. 1883) was added when the family, farm, and profits grew. There was a good turnout on Saturday, Oct. 17, and a better turnout on Sunday Oct. 18. On Saturday, the display area was manned by Peter Friedmann, Display Chairman for the event, Hal Davis, Michael Foley, Gara Cross, and Joddie Heavener. Saturdays display included a number of surveying instruments, including a Surveyor's Compass (Hal's), a Young and Sons Wye Level (Joddie's). Solar Transit, and an assortment of transits, theodolites and levels. Also on display were surveyors' chains, tools, artifacts, brochures, pictures, books and old maps --the old maps drew a lot of interest. Other items of interest that were on display included an old Monroe Hand Crank Calculating Machine, a Curta Hand-held Calculator, a Circular Slide Rule and a USC&GS book of Sines and Cosines. One young girl visiting the display marveled at the fact that you could multiply numbers using the slide rule -she had never seen a slide rule before. A number of youngsters enjoyed trying their hand at cranking the old Monroe and watching if multiply the numbers.

Sunday's volunteers were Peter, Michael, Paul Lamoreaux, Duncan Marshall, and Hal with Gregg Comerer attending in the afternoon. The display area was busy all day with many visitors looking at the old maps, figuring out where they lived, and wondering how it might have looked in the past. Many visitors were interested in learning about the Mt. Diablo Initial Point, the United States Public Land Survey System, Mexican/Spanish Land Grants, and how the Mt. Diablo Base and Meridian were used as the Initial Point for the Surveys of a large portion of California and all of Nevada.

Other activities during the Harvest Days included Popcorn and Indian Corn Harvesting, Bar-B-Que, Historic Cooking, Wagon Rides, Steam Tractor and Antique Farm Equipment Displays, Blacksmith Shop Displays. Tours of the Patterson House, and Visiting the Farm Animals.

First Published in the Mount Diablo Surveyors Historical Society's newsletter; fourteenth edition, January 1999, Volume 8, Number 1 Copyright &copy1999 Mount Diablo Surveyors Historical Society, all rights reserved.
Photographs &copy1998 MDSHS and taken by  MDSHS member Michael J. Foley, all rights reserved.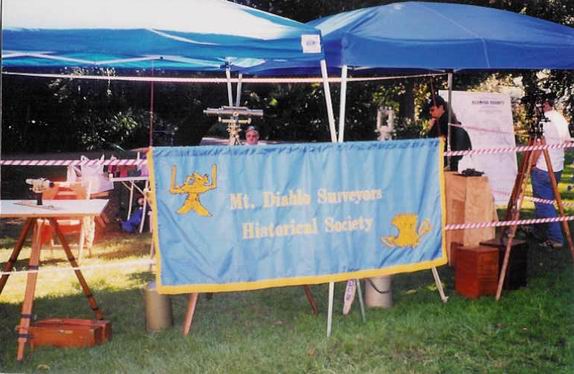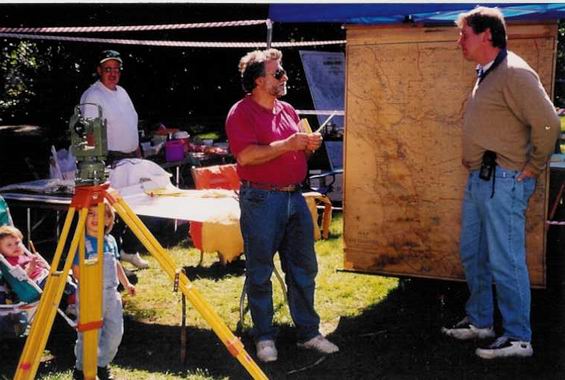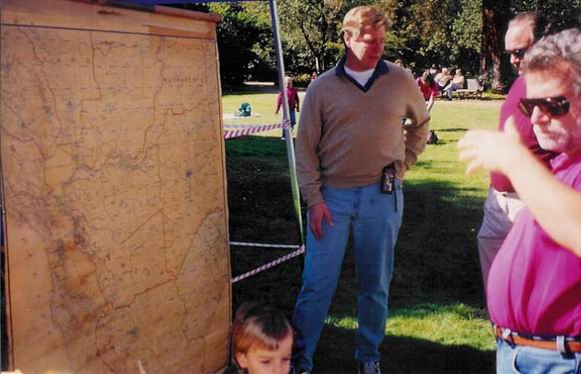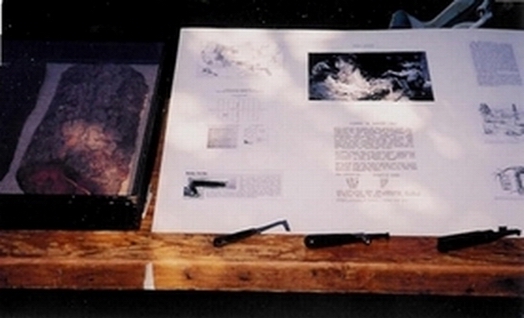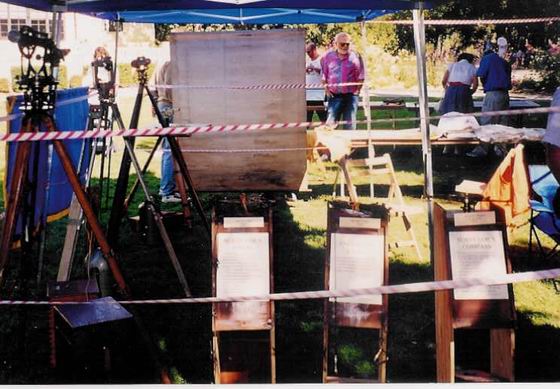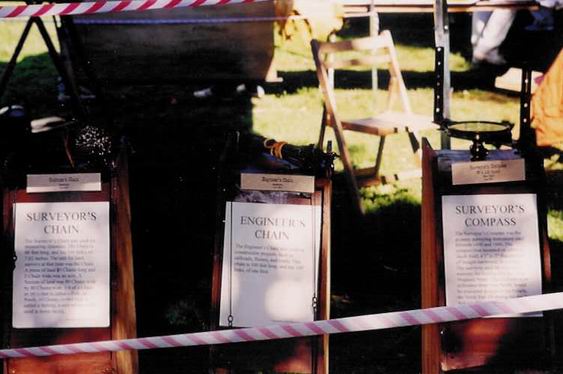 Return to Ardenwood Page Events
---
MDSHS is a California non-profit corporation organized under
IRS 501(c)3 (Federal #8916806802, CA 1835904).
Website designed by and maintained by Michael J. Foley, PLS
Page last updated 09/24/2013
WWW.MDSHS.ORG
Copyright &copy2013 MDSHS.